Retail Store
Within the last couple of years Kelley has built a 2000 ft retail store in which to display the incredible merchandise. The building has amazing eye appeal from the outside with the appearance of a 100 yr old store. In addition to the handmade tack, Kelley also enjoys historical collections. These range from antique farm wagons to his more recent purchase, a 1950 chevy pick-up with stock racks, that also serves as a billboard in front of the store. As you move through the front entrance into the showroom, you will see that Kelley put great thought into making the store visually appealing and giving customers a very unique retail experience.
Kelley strives to make the shopping experience enjoyable and comfortable for all his guests. On a cold day you can indulge in a warm cup of cocoa or coffee from the coffee bar or you can hang out, play a game of pool, or watch a sporting event on the flat screen mounted in the center of the store.
Kelley has a full time employee that runs the store with a warm smile and a friendly face. She's always happy to assist any customer in picking out or creating a product that will fit their specific needs or find the perfect gift, sure to make any friend or family member smile.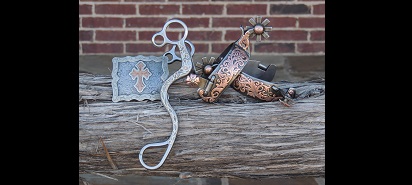 Ready Made
Bits, Spurs, Buckles and Conchos currently in stock